Fraunhofer FOKUS site visit
In the afternoon of 23rd April, delegates will have the opportunity to take some time off-site, and visit a renowned R&D facility in Berlin.
Fraunhofer FUSECo Playground Excursion / Visit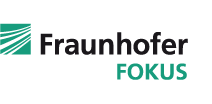 Beyond IMS – Understanding the Role of EPC and MTC within emerging Smart City Infrastructures
This site visit will introduce to interested conference delegates the Fraunhofer FUSECO Playground (www.FUSECO-Playground.org) and its related software toolkits designed to prototype innovative seamless multimedia applications on to of fixed and mobile Next Generation Networks (NGNs) with emphasis on emerging smart cities.
The FUSECO Playground offers different technology platforms, such as the FOKUS Broker, OpenIMS, OpenEPC and OpenMTC toolkits, which can be either used indiviually or in combination to
establish complex close to reality testbed environments on top of various access networks.
During the visit we will present the OpenEPC (www.OpenEPC.net) and new openMTC (www.open-mtc.org) toolkits by introducing first the drivers for their development, the related standards and architectures, and finally show some demo applications. A final Q&A session will allow delegates to understand the importance of these technologies and toolkits for the future positioning of operators in a world of total convergence.
For more details visit www.FUSECo-Playground.org